Women For Hope Helps Out Ann Arbor's Take Back The Night
We have partnered with the Ann Arbor Coalition Against Rape to raise money for the 28th Annual Take Back the Night Rally and March, being held on April 13th with a Speak Out being held on April 10th. Take Back the Night is an international rally and march that is organized in local communities with the purpose of unifying women, men, and children in an awareness of violence against women, children and families. The event is a collaboration of community and the Unversity of Michigan campus and other interested persons who are ready to take a stand against violence and make the night safe for everyone.
Pam herself has attended Take Back the Night Rallys as a survivor. They invoke a profound feeling of empowerment and a sense that you are not alone in dealing with a sexual assault. This will be an all-year campaign, with the monies generated from now until April 13th going to the 2007 rally. Check out the Women For Hope Take Back the Night Ann Arbor page to purchase a sexual assualt or domestic violence awareness bracelet or select bath and body products chosen by the TBTN committee and help out this great cause.
To learn more about the event, click here to go to the Ann Arbor' Take Back the Night site.



New additions to our Awareness Bracelet Line
Due to the feedback from our customers, we have added three new awareness causes to our bracelet line. Now available are Leukimia Awareness Bracelets in Fireopal (orange) crystals, Lung Cancer Awarenesss Bracelets in Clear and White Opal crystals and Colon Cancer Awareness Bracelets in Sapphire (Blue) crystals. 10% of the gross proceeds from these items will be donated to CancerCare. Go to our Awareness Jewelry page in the Shop to purchase these great new items and give back to those who support cancer patients.
Heart Pendants Now Available
Introducing our Swarovski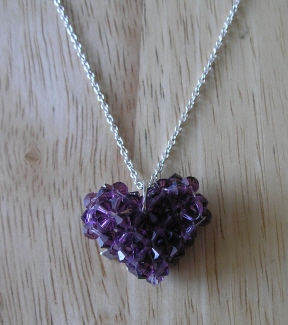 Heart Pendant made from over 70 bicone crystals. It is available now in the Domestic Violence Awareness color of purple, but will soon be available in all the awareness colors. Go to our Domestic Violence Awareness Jewelry page to find out more information. Updates will be sent out when it is available in other colors.
Additions to the Site
We have added a Resource page with links to various sites that provide further information, a press page where you can catch up on the mentions of us in the press, and a newsletter page that we plan to update and send out to our customers on a quarterly basis.
We also are looking for Vendors to add to the shopping experience for our customers. Check out the Vendors Needed link at the bottom of the page for details if you or someone you know might be interested in adding their products to our site. We do have one main requirement of the products being made by women or coming from a women-owned company.
Thank you to our customers and supporters
Amazingly enough, our site has been up and running for over 7 months. We can not believe the positive responses we have received so far from our customers, the charities we are working with and family and friends.
Press
We were mentioned in an article in the Wall Street Journal in October that spoke about making sure that you purchse items from reputable companies that are donating to reputable charities, and we were listed as one of those companies to shop with!!! We also received some local coverage recently with a newes brief in the Oakland Press announcing our partnership with CancerCare.
Projects
We have worked with HAVEN of Oakland County, the sexual assault and domestic violence crisis center out of Pontiac during October, Domestic Violence Awareness Month. We also were able to donate 200 keychains to the National Coalition Against Domestic Violence's National Conference last July. Also this summer, we participated in a Doggie Ice Cream Social where proceeds were donated to a local animal shelter. Now we are excited to be working the Ann Arbor Take Back The Night. We hope continue to grow and expand and increase our donations to all these worthy causes and more as we head further into 2007.
Most importantly, we have heard back from several of our customers and how our site and the items purchased has touched them in a positive way. We appreciate hearing about this and know no matter what, if we have helped one person with Women For Hope, we are a success.
Thanks for your continued support. Please feel free to provide us with your feedback any time at info@womenforhope.com.
Love,
Pam and Tom Swider